God's word is powerful.  Because it has the power to change hearts, I want to make sure that my home is full of opportunities for my children to glean truth from scripture.  To do that, we have created natural routines and habits that easily add scripture to our day.
This post contains affiliate links.  You're not obligated to make purchases through them, but every time you do, you're supporting MamaGab.  Thanks!
1.  Bible Reading Time
We build this into our schedule so that it happens automatically, without much thought or discussion.  For us, this is best at bedtime, but doing it before naps or first thing in the morning might work better for your family.  We're always reading through a Bible story book, so Daddy just reads the next story before putting the kids to bed.  These are some of our favorites:
My Favorite Bible: The Best-Loved Stories of the Bible

Read Aloud Bible Stories, Volumes 1-4
2.  Incorporate Scripture into Curriculum
Since God permeates every aspect of our lives, there's no need to isolate subjects from God.  Math, for example, shows the orderly nature of God.  Reading can be about great missionaries, in addition to classic good literature like Frog & Toad.
Handwriting is a great way to incorporate scripture because children can do simple copywork for handwriting practice and if you can find a scripture-based handwriting curriculum, then that provides one more opportunity to discuss the Lord with your children.  We have found Write Through the Bible, Jr., to be a great way to do that.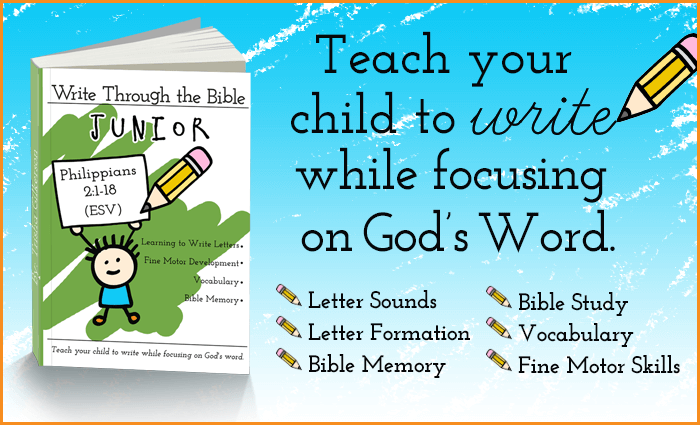 My 4 year old is new to handwriting, but he has enjoyed practicing learning to write letters using Write Through the Bible, Jr.  Since he's not ready for the curvy-ness of lowercase letters, we simply focus on writing capitals and recognizing the lowercase letters.  It has worked well for us.
It's designed for kids ages 4-6.  My 4 year old feels so proud of himself every time he works on this curriculum!  His handwriting work is proudly taped to the refrigerator right now.
I also like the scissor & glue skills included.  Those are important hand-strengthening activities, and I made the mistake with my oldest child of not letting her do enough cutting & gluing at this age.
Write Through the Bible, Jr is available in KJV or (my favorite) ESV and they offer various handwriting options too.  I think you'll love it.  You can purchase it and download it here or purchase the softcover version of the book through Amazon.
If you purchase it between March 18-March 27, you'll receive $49 worth of free bonus books to use with your child!  You can also download a sample of the first chapter for free here.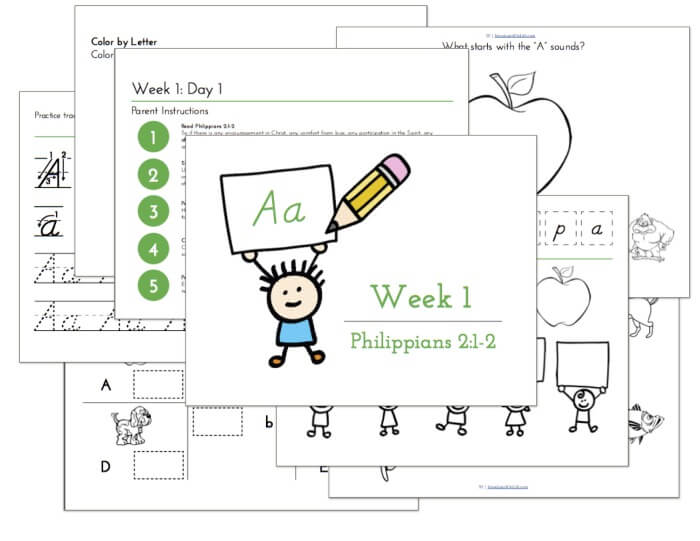 3.  Naptime & Bedtime Music  
This habit started by accident.  We lived in a house where the old hardwood floors echoed during naptime, so it just made sense to turn on music during naps to block out extra sounds.  We chose this one
 because we love that our kids are hearing scripture and old hymns as they're falling asleep.  I can't tell you how many times God has worked in my heart in the middle of a difficult and frustrating moment because I was rocking a baby and listening to scripture-based music.  There's just no way to sing Great is Thy Faithfulness with a grouchy mama heart.  It's impossible.
4.  Memory Verse of the Week
If your children are in a program like AWANA, you can put your child's verse up on display all week long so that the family can learn it together.  We don't have AWANA at our new church here, so I use the Bible verses from Sound Words Curriculum for us to memorize each week.  Desiring God also has Foundation Verses for children ages preschool-five.  You can find them for free here or purchase memory cards or the app here.
I like to post a Bible verse on our whiteboard so that we can review it all week long.  My favorite time to review memory verses is when I'm cooking my eggs for breakfast in the morning!  My kids are usually right near me, eating their own breakfast, so it's a perfect time to practice.
5.  Music Throughout the Day
I love to put music on while we're cleaning!  Sometimes, we put on our Disney station on Pandora and have a fun little dance party for the kids.  It's my daughter's lifelong dream to have hair as long as Rapunzel's (and to be a librarian and a mommy!) so this suits her personality.  But most of the time, I need music that's going to minister to my heart, especially if I'm tired and I just don't feel like doing the dishes.  Some of my favorites are the Glory Revealed
 & Glory Revealed II
 albums which are almost entirely from scripture.  We also love Indelible Grace music because they rework old hymns (You can find Indelible Grace I here).  There's a depth to those old hymns that I often miss in modern worship music.


What are some ways you incorporate Scripture into your day?  I would love to hear your ideas!